A Special Thank You to Our Amazing Horse Sponsors
We are grateful to friends and supporters who participate in our "adopt" a therapy horse program - sponsoring them for a one year period. A Sponsorship covers board, shoeing and basic veterinary expenses. We thank the following donors for their continued support.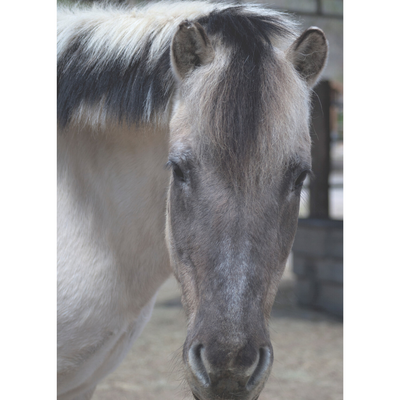 Annabelle - Sponsored by Jan & Rob Swartz and Nancy & Perry King
Annabelle is a definite favorite at the ranch. She is a beautiful 25 year old Norwegian Fjord...a breed of horse, perfectly suited for this work. Her short legs and draft type body along with an amazing disposition, make her an exceptional therapy horse.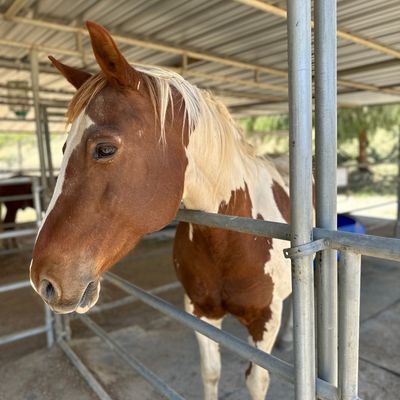 Annie - Sponsor Me!
Annie is our newest addition at the ranch, joining the team April 2023. Generously donated by Kelly and Robert Dombrowski this beautiful girl walked off the trailer and right into lessons only 4 days later! She is as steadfast as they come, never batting an eye or missing a beat despite all that has been thrown at her. She's as sweet as can be and is already very much a part of the herd.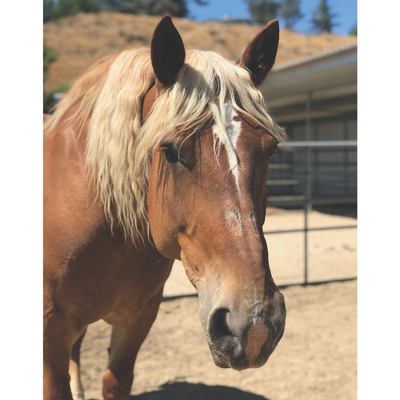 BB - Sponsored by Marian & Richard Sandnes
Big Bertha aka B.B. our newest Belgian Draft, is an absolute "work horse." B.B. was born & raised on an Amish farm where working was serious business, and so we are thrilled to be able to lighten her load and provide her with grateful students who love to ride her each week. BB quickly became one of our most relied upon therapy horses due to her strength & ability.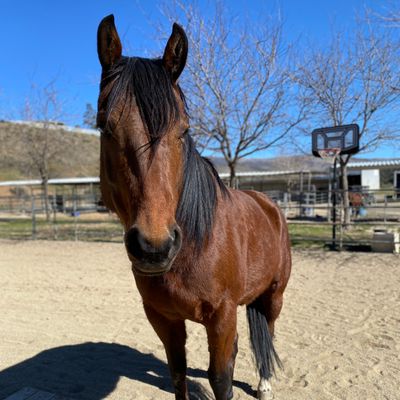 Coco - Sponsored by Lori Rose & Jeff Moxie
Coco is our other new addition at the ranch! She is a beautiful 6 year old Quarter horse with more whoa than go! After being at the ranch only a week Coco was ready for lessons. She is loving her new job and we feel so thankful we get be her forever home.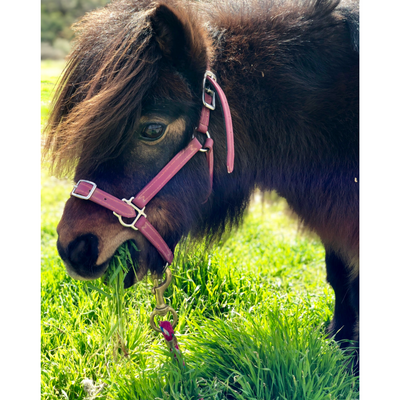 Chocolate – Sponsored by Renee Berlin & Allen Hohnroth
Chocolate is our miniature horse – truly loved by everyone! Many of the children who receive therapy on the backs of the larger horses, come for their first sessions not knowing what a horse is and there is uncertainty associated with that. The "mini's" role has been of assurance and acclimating them to working around & with horses; not many people, big or small, can resist a friendly, fluffy, little horse and the children are immediately drawn to them.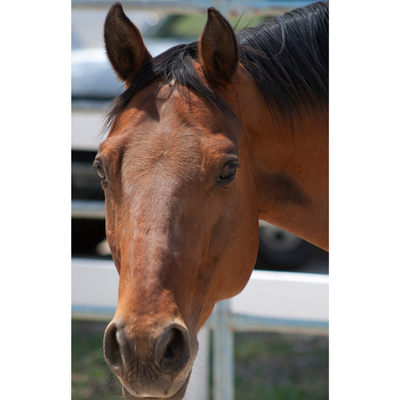 Cricket - Sponsored by Larry & Peggy Jean Rasmussen
Cricket is an 16 year old American Quarter Horse, who has been working at the ranch for the last 6 years. Quarter horses are known to be ranch horses, and so it only makes sense that Cricket intuitively knows how to do his job at Carousel Ranch. While he is a strong guy, he isn't one with too much energy, and so a good fit for those students needing a calm, steady, consistent stride to get them from point A to point B.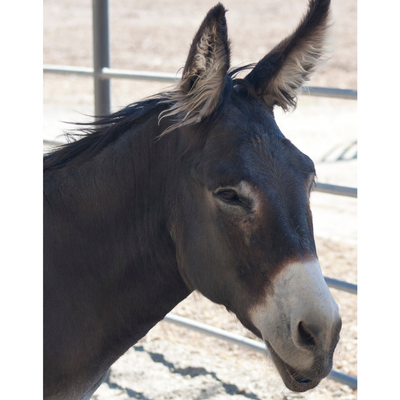 Earl – Sponsored by Renee Berlin & Allen Hohnroth
Earl is a 12-year-old donkey with the heart of a lap dog. He can be heard across the ranch "hee-hawing" for a good pet and some carrots. Earl loves attention and will gladly snuggle anyone who enters his stall. Earl's main purpose at the ranch is to allow our kids a more hands on experience to get them used to being around horses. As a special treat students get to take Earl for a walk, give him a bath and even take him on a "pony parade" through the obstacles in the arena.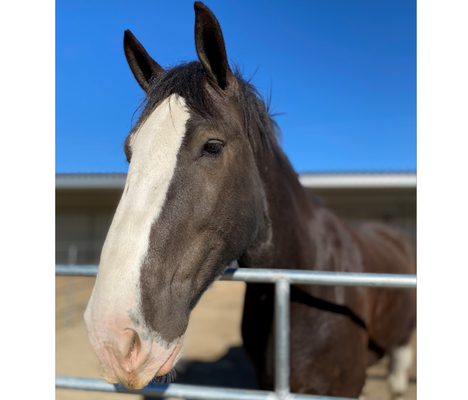 Ex Decker's Nash - Sponsored by Yvonne Rockwell & Express Employment Professionals
Ex Decker's Nash is our newest therapy horse in training! He is a gorgeous 4 year old black and white Clydesdale that just recently made the journey all the way from Express Ranches in Oklahoma. Even though he's only been here a short time he is proving to be an amazingly level-headed boy that will fit right into our program. We can't wait to get to know him more!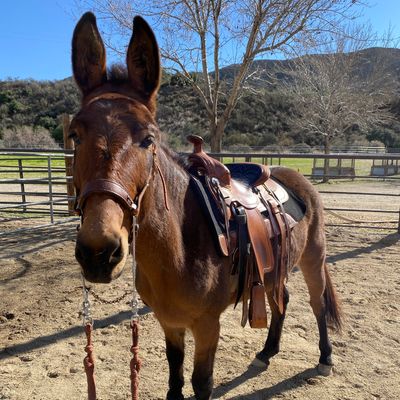 Gabby - Sponsored by Charlie & Patti Rasmussen
Gabby is one of our newest additions at the ranch, and our only mule! Even though she's only been at the ranch a short time she has quickly stolen our hearts with her spunky personality and her love for snuggles. Being a mule she is smart as a whip and eager to learn, we have no doubt she'll be an amazing lesson mule.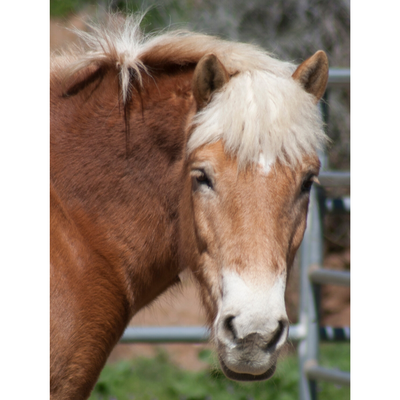 Gus - Sponsored by Mike & Kris Huber
Though young at heart, 22 year old Gus is a definite favorite at the ranch. He is one of our three Haflingers. Gus is the strong, silent type, which is especially suited for this work. Over the years, Gus has become a very important member of the CR team – working in many of our most challenging lessons.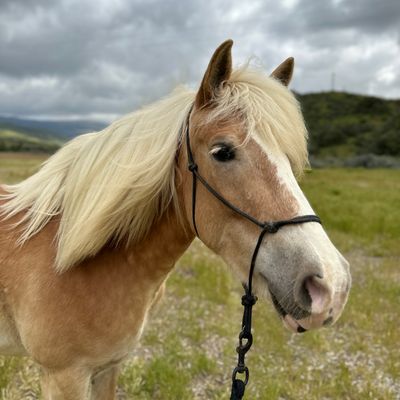 Josie - Sponsor Me!
Josie is another new addition, joining the team November 2022. She is a beautiful 7 year old Haflinger mare. This breed is great for therapy work due to their short and stocky body type. She is now one of 3 Haflingers on the CR team! We know Josie will make a great therapy horse! Contact the ranch if you are interested in sponsoring Josie!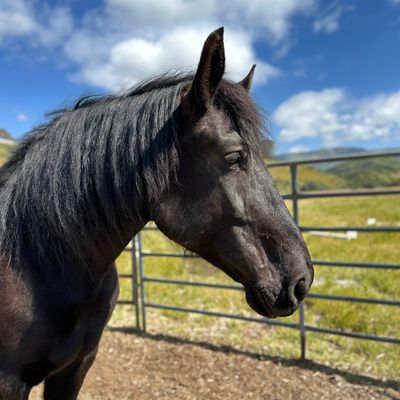 Mattie - Sponsor Me!
Mattie is one of our newest additions to the ranch, joining the team December 2022. She is a beautiful 9 year old Percheron mare with the kindest spirit, she is so loved already. We have yet to find something that bothers this big girl! We know she'll be an amazing therapy horse. Contact the ranch if you are interested in sponsoring Mattie!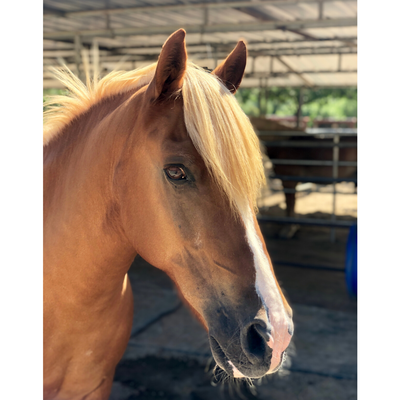 Mo - Sponsored by Julie Benson Krumrine, Bruce Krumrine & Robin Benson
Mo is a 22 year old Haflinger. This breed of horse is especially suited for our work and is known for its gentle disposition, sturdy draft type body and short legs. Mo has proven to be a phenomenal therapy horse and has a genuine love for his riders as shown by the many kisses he gives them after their ride!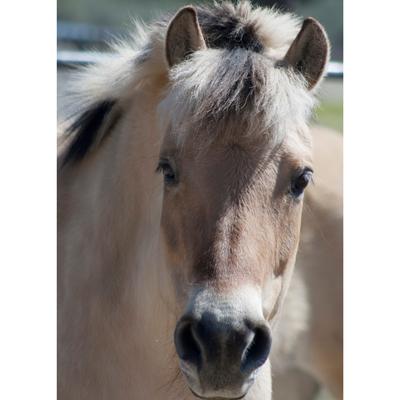 Norah - Sponsored by Logix Federal Credit Union
Norah is a 15 year old Norwegian Fjord. This 14 hand beauty is our go-to for many lessons these days now that her friend Annabelle is aging. She's the perfect size and temperament to meet the needs of a wide range of students. We're so very grateful that the City of Santa Clarita provided us with the grant to purchase this very specific breed of horse.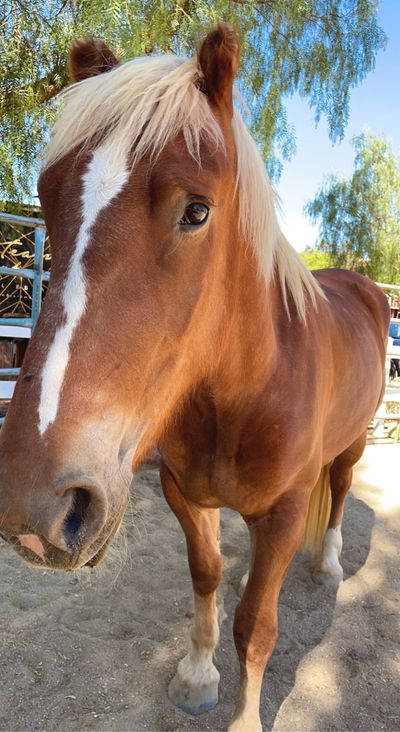 Winnie - Sponsored by Renee Berlin & Allen Hohnroth
Maxine is a 4 year old Draft cross with the most adorable little ears that resemble a bear. Because of her snuggly personality and sweet little bear ears we affectionately named her "Winnie". She is very young and will need some time before she's in lessons but we have no doubt that this girl will be amazing assets to our therapy program.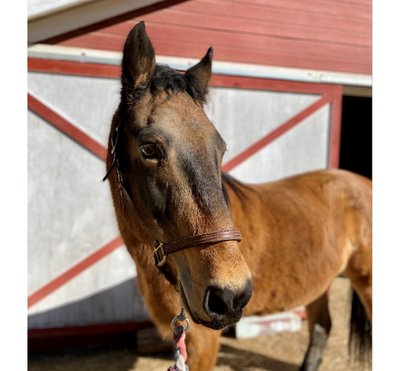 Mac - Sponsored by Karin Sandnes
Also known as "Big Mac" - has always been a favorite among many beginning riders. He was donated by neighbors and friends, Chris & Lisa Burgard - who adopted him from the Bureau of Land Management (as a wild horse). Mac is a beautiful buckskin Mustang who has now earned his retirement here at the ranch, spending his days playing with his best bud Mijo.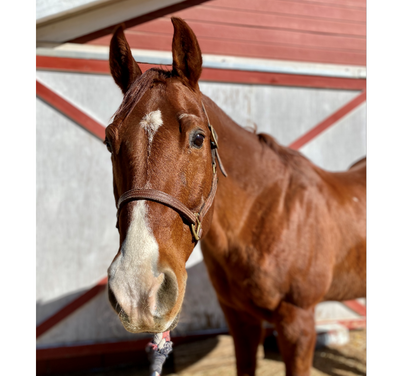 Mijo - Sponsored by Robert & Teresa Todd and Chris & Chris Seidenglanz
Mijo, an 25 year old chestnut Quarter Horse, had a loving home and previous career as a "movie" horse. Mijo immediately proved that he had the right temperament for the job and was used for many of our riders under saddle. After years of hard work he has now retired and lives out his days on our upper property with his best friend Mac.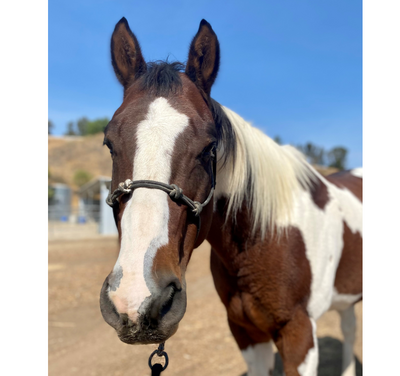 Sundance - Sponsored by Susie Woo
Sundance, a beautiful brown & white Paint Horse that was donated by Rick & Carol Karl with his best bud Ebony. Unfortunately due to some severe arthritis in his knees he didn't make it as a therapy horse for very long. Sundance gets to live out his days being loved and hanging out with his two best friends Mijo and Mac.