Our Incredible Team of Carousel Horses
At Carousel Ranch we couldn't do what we do without each and every one of our horses. Each is special in their own way and are hand chosen for each students. They come in many different sizes, shapes and personalities.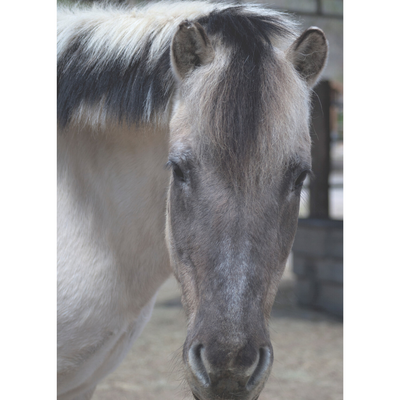 Annabelle - Sponsored by Jan & Rob Swartz and Nancy & Perry King
Annabelle is an extraordinary 28-year-old Norwegian Fjord horse, who has dedicated 15 years of her life to bringing comfort, healing, and joy to those in need. With her gentle and calm demeanor, she has made an exceptional therapy horse, leaving a lasting impact on countless children's lives. In her very important role, she assists children with physical disabilities in building strength, balance, and coordination. Annabelle's steady rhythm and graceful movements have a therapeutic effect, both physically and emotionally. She is much loved and appreciated by all of us at Carousel Ranch, as she truly is a one-of-a-kind therapy horse.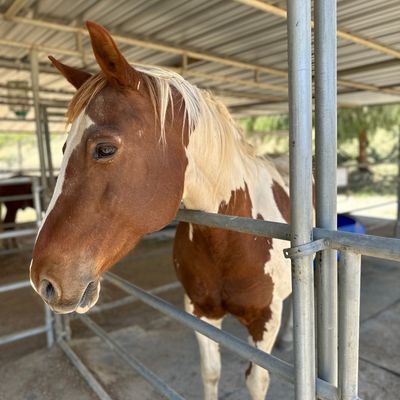 Annie - Sponsored by Charlie & Patti Rasmussen
Meet Annie, a beautiful 16-year-old mare who has recently joined the team and already captured the hearts of both children and caretakers alike. Although she is new to this job, her deep affection for children shines through in every therapy session she participates in. With her gentle nature and intuitive understanding, she quickly establishes a bond of trust and connection with her young companions. Annie's patient and calm demeanor allows her to support children in overcoming challenges, building confidence, and discovering the transformative power of the human-animal bond.
While Annie's primary focus is her therapeutic work, she has a playful inclination that often manifests after grooming sessions. Once her coat is gleaming and her mane is neatly brushed, Annie can't resist the temptation to indulge in a joyous roll in the dust. Her delight is contagious as she blissfully covers herself in the earthy embrace of the ground. As a result, her caretakers find themselves attending to her grooming needs multiple times a day, happily accommodating Annie's endearing quirk.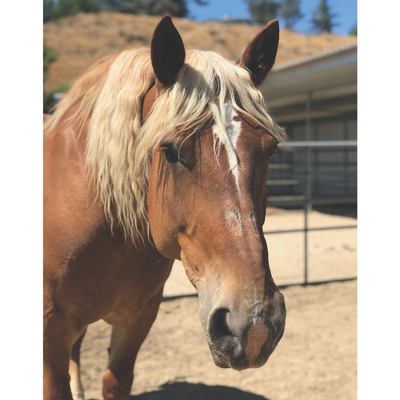 BB - Sponsored by Marian & Richard Sandnes
B.B the gentle giant, is a beautiful Belgian Draft horse, who has been with us at Carousel for the last 6 years. Despite the demanding nature of her former life on an Amish farm, B.B's spirit remained unyielding. Her kind and gentle nature served as a beacon of compassion, even amidst the physical challenges she faced.
Now, in her role at Carousel, B.B brings her wealth of experience and her gentle soul to support individuals on their journey toward healing and personal growth. Her transition from physical labor to therapeutic work showcases her adaptability and resilience. B.B's calm presence creates a safe and nurturing environment for riders, encouraging them to develop trust, confidence, and emotional well-being. B.B is a treasured member of our ranch.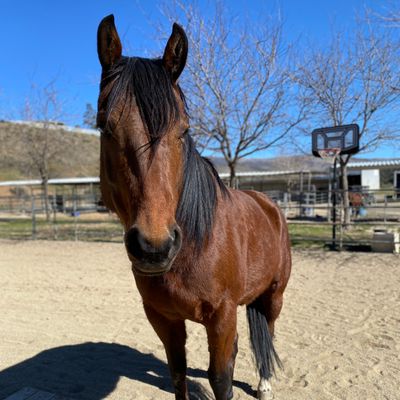 Coco - Sponsored by Lori Rose & Jeff Moxie
Coco, the adorable bay mare, is a delightful combination of spunk and sweetness. With her vibrant personality and a love for trail riding, Coco brings excitement and joy to every adventure. Coco's love for the outdoors is palpable, as she eagerly leads the way, her spirit free and joyful.
However, when it's time to work with children, Coco's dynamic personality takes a serene turn. Recognizing the importance of creating a safe and nurturing environment, she effortlessly shifts into a calm and gentle demeanor. Her ability to sense the needs of young riders and respond with patience and kindness makes her an ideal companion for therapeutic work. These strengths make her an extraordinary asset at Carousel Ranch.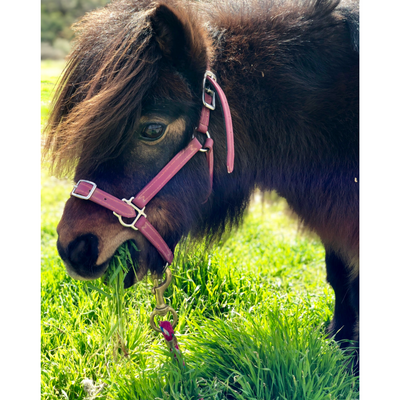 Chocolate – Sponsored by Renee Berlin & Allen Hohnroth
Chocolate, the delightful miniature horse, has captured the hearts of children and brought smiles to their faces through his endearing personality and his important role in equine therapy. Despite his small stature, Chocolate's impact on the lives of those he encounters is immeasurable.
At 23 years old, Chocolate has a wealth of experience and wisdom. His unique appearance adds to his charm, with his irresistibly cute and funny demeanor captivating everyone who meets him. Chocolate's primary role is to help children become familiar with horses and build a positive association with them. His gentle nature and patient demeanor make him the ideal companion for those who may be experiencing fear or anxiety around larger animals. Through carefully crafted therapy sessions, Chocolate assists children in learning about horse behavior, grooming techniques, and basic horsemanship skills, all while fostering a sense of trust and comfort.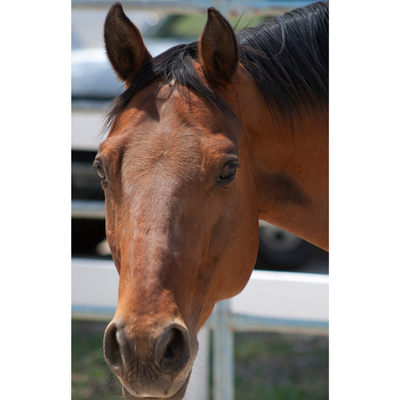 Cricket - Sponsored by Larry & Peggy Jean Rasmussen
Cricket, the remarkable quarter horse, has become a beloved figure around the ranch. With his strength, stability, and calm demeanor, Cricket embodies the essence of the perfect therapy horse and has touched the lives of many. Whether it's carrying riders during therapeutic riding sessions or providing a calming presence in equine-assisted therapy sessions, Cricket's dependability is unparalleled.
Outside of his therapy work, Cricket enjoys the tranquility of the ranch environment, and loves exploring the vast outdoors while on a trail ride. His breeding makes him the perfect trail partner, able to adapt to different environments and handle challenges safely.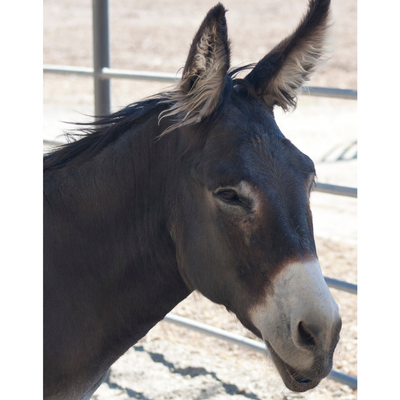 Earl – Sponsored by Renee Berlin & Allen Hohnroth
Earl, the lovable therapy donkey, has a personality that is as endearing as it is comical. With his adorable appearance and a penchant for calling out for his friends and for food, Earl has a special way of capturing hearts and bringing smiles to everyone around him. While Earl may not be the biggest fan of brushing, he makes up for it with his willingness to stand sweetly for a bath on a hot summer's day. Children often find themselves giggling at his playful antics and eagerly join in to help him cool down and get clean in his bath time routine.
Earl's calm and patient demeanor make him the perfect companion for youngsters eager to take charge and develop their leadership skills. He will happily walk alongside them, his steps steady and measured, forging a connection that goes beyond words. The children's faces light up as they lead him, and Earl, in turn, basks in the attention and affection he receives.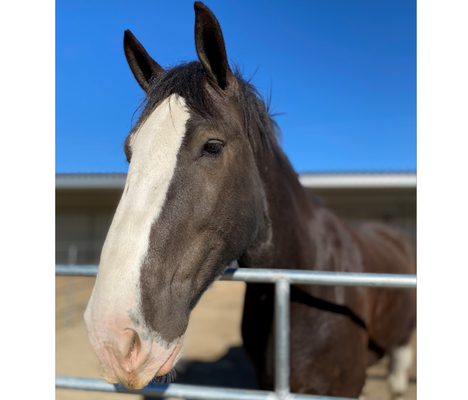 Ex Decker's Nash - Sponsored by Yvonne Rockwell & Express Employment Professionals
Nash is our magnificent black Clydesdale with a striking white blaze. Towering over the rest, Nash is not only the tallest therapy horse on the ranch, but he also possesses a heart as big as his stature. Nash's imposing presence and size make him a valuable asset to the therapy horse team. With his tall stature, he is capable of comfortably carrying larger riders, providing them with a safe and secure experience. Nash's calm and patient nature allows him to remain steady and composed, even in the face of challenging situations.
Even though he is still so young at seven years old, Nash's true gift lies in his gentleness and kindness. He exudes a sense of warmth and compassion that instantly puts his riders at ease, his soothing energy providing comfort and support to his riders.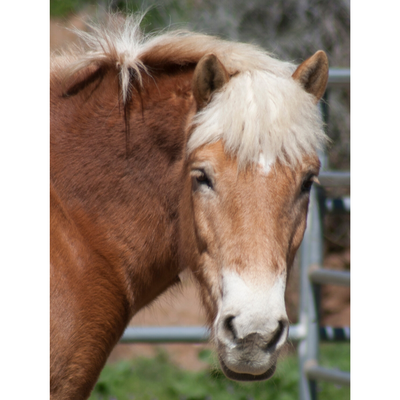 Gus - Sponsored by Mike & Kris Huber
Meet Gus, an extraordinary Haflinger horse whose gentle presence and unwavering strength have made him an invaluable asset at Carousel Ranch. His journey as a therapy horse began 16 years ago, when he was chosen to join us here at Carousel, helping children with diverse physical and cognitive challenges. Gus thrived in this environment, where he could utilize his strength and dependability to help those in need.
Gus works alongside some of the most challenging riders with grace and composure. He possesses a remarkable patience and calmness, making him the perfect partner for individuals who require special attention and support. When he is not working he loves socializing with his neighbors, and getting a good scratch behind his ears when it's time for grooming.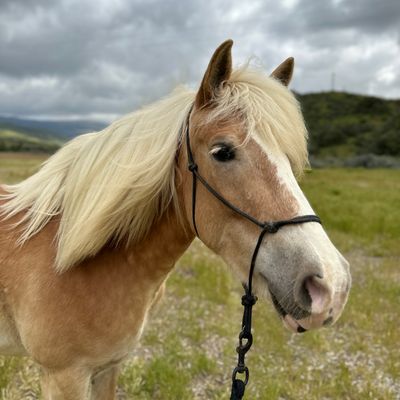 Josie - Sponsored by Joey, Sydney and Louis Stelnick
Josie is a stunning Haflinger mare who joined the team less than a year ago. With her striking white blaze, flowing blonde mane and tail, Josie captures the attention and admiration of all. Beyond her captivating beauty, she possesses a gentle temperament that makes her an exceptional therapy horse. Her presence in therapy sessions brings both visual delight and a profound sense of healing to those she interacts with.
Josie's serene energy is soothing, and she loves to blow her warm breath on the faces of the children she works with. This is considered a sign of trust and affection, and blowing on their face allows them to establish a closer connection with her. We are so grateful to have Josie on our team.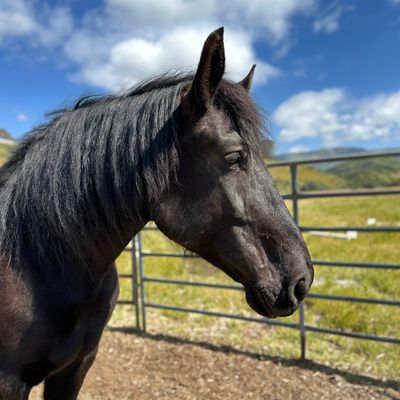 Mattie - Sponsored by Renee Berlin & Allen Hohnroth
Matilda, affectionately known as Mattie, is a 10-year-old Percheron mare. Having been with us less than a year, she has proven herself to be an exceptional therapy horse. Mattie's powerful stature and noble presence radiate a sense of strength and dignity, making her a captivating figure both in the therapy arena and in the hearts of those she helps. With her commanding presence yet gentle nature, Mattie brings strength, comfort, and healing to those she interacts with.
Alongside her therapeutic prowess, Mattie has a charming quirk—she loves to stand in her water bucket during the warmer months, adding a touch of playfulness to her character. The cool sensation of the water seems to bring her joy, and her caretakers often find themselves smiling at the sight of her enjoying herself.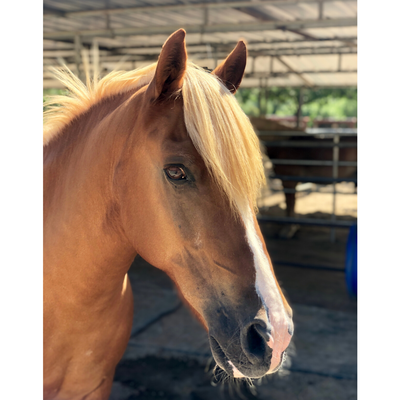 Mo - Sponsored by Julie Benson Krumrine, Bruce Krumrine & Robin Benson
Meet Mo, a remarkable therapy horse whose age and experience have made him a beloved and wise member of the ranch. Mo came to us when he was only 6 years old, and 19 years later he stands as a testament to a life well-lived. At his advanced age, he has become one of the oldest horses on the ranch, embodying a wealth of wisdom and experience.
Throughout his years of service, Mo has proven himself to be an amazing therapy horse, and despite the challenges that come with aging, he continues to fulfill his role with grace and a gentle spirit. His unique circumstances, such as most of his teeth being missing, have not hindered his ability to connect with and support children. On the contrary, his challenges have only deepened his empathy and understanding, enabling him to forge meaningful connections with individuals facing their own difficulties.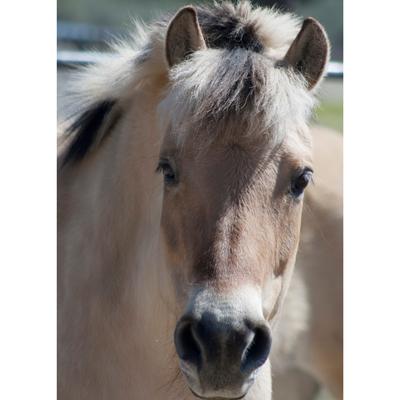 Norah - Sponsored by Logix Federal Credit Union
Norah is a remarkable therapy horse with a heart of gold. With her stunning dun coat and gentle disposition, Norah has become a beloved member of the Carousel Ranch community. She is a 16-year-old Norwegian Fjord, who quickly captures the hearts of those who encounter her. Her incredible patience and intuition allow her to connect with even the most challenging cases. With a remarkable ability to sense the needs and emotions of others, Norah has a unique talent for creating a safe and nurturing environment for those she interacts with.
Not only does she create special bonds with the children whom she helps, she also has a very close bond with her best horse friend Annabelle, often found together engaging in mutual grooming, and then of course sleeping!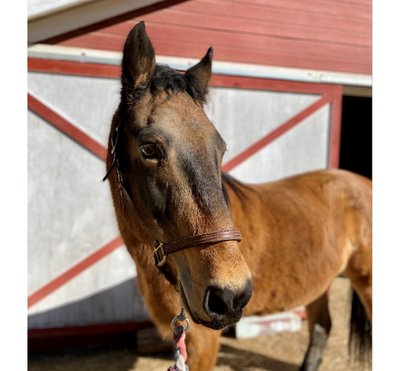 Mac - Sponsored by Karin Sandnes
Mac is a seasoned therapy horse who has dedicated the majority of his life to providing comfort and support to children in need. With his stunning buckskin coat and a heart of gold, Mac exemplifies the qualities of a trustworthy and reliable equine companion. Through his many years of service, he has touched the lives of countless individuals, faithfully supporting and guiding riders on their paths to recovery. He has left a lasting impression on all who have had the privilege to work with him.
After years of dedicated service, Mac is a well-deserved retiree. As a retired therapy horse, he can now enjoy a life of leisure and relaxation, free from the responsibilities of sessions and work. His retirement serves as a testament to the invaluable contributions he made during his active years.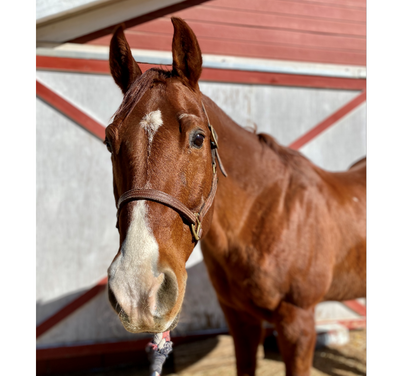 Mijo - Sponsored by Robert & Teresa Todd and Chris & Chris Seidenglanz
Meet Mijo, a remarkable horse whose life journey took him from the glitz and glamor of the silver screen to the heartwarming realm of equine-assisted therapy. With a captivating presence and a heart full of compassion, Mijo has brought joy and healing to countless individuals. After a fulfilling career in the movies, and therapeutic work, he now enjoys a well-deserved retirement, reflecting on the amazing life he has lived.
As a therapy horse, Mijo became an integral part of our program. His unique background as a movie horse added an element of intrigue and fascination to his therapeutic sessions, capturing the imagination of those he worked with. Mijo's ability to create a safe and nurturing environment allowed individuals to open up, express themselves, and find solace in his presence.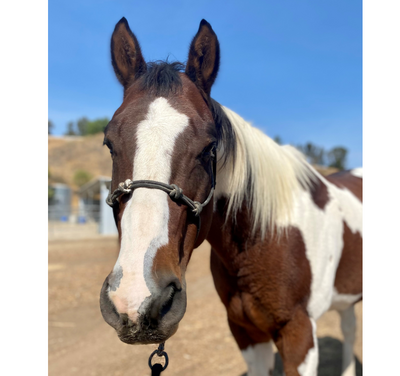 Sundance - Sponsored by Susie Woo
Sundance, the gorgeous paint gelding, touched the lives of many while he was working here at Carousel Ranch. However, due to health issues, he transitioned into a well-deserved retirement, with his friends Mac and Moji. His radiant presence brought smiles, laughter, and moments of respite to those he worked with, reminding them of the beauty and joy that can be found in the presence of a gentle soul.
Sundance's impact on the lives of many will forever be remembered, and now he can enjoy his time basking in the sun and enjoying time with his playmates. He will always be celebrated and cherished for the joy and love he brought to all.
We are grateful to friends and supporters who participate in our "adopt" a therapy horse program - sponsoring them for a one year period. A Sponsorship covers board, shoeing and basic veterinary expenses. We thank our sponsors for their continued support.