Volunteer Information
Carousel Ranch is always looking for volunteers to assist in the work that we do. As a volunteer, you will become a very important part of the Carousel Ranch team. If you are interested in working with us, please call (661) 268-8010 to schedule a time to visit.
Volunteers are the key to our success by providing us with the assistance that allows us to offer the high quality of service that is our hallmark.
Volunteer Hours
Tuesday: 1:00 - 5:00 pm
Wednesday: 1:00 - 5:00 pm
Thursday: 1:00-5:00pm
Friday: 1:00 - 5:00 pm
For outside volunteers: In the event of inclement weather, please call the office to confirm we will be teaching lessons that day.
As a volunteer, job responsibilities will include:
Spotting/Sidewalking
Walking along side the horse, assisting the instructor and child during the therapy.
General Ranch Work
General clean up, raking, scrubbing and filling of water buckets, tack cleaning and other miscellaneous tasks as needed.
Office Work
Assisting with mailings, etc.
Special Events
Assisting in organization or during the actual day of a special event.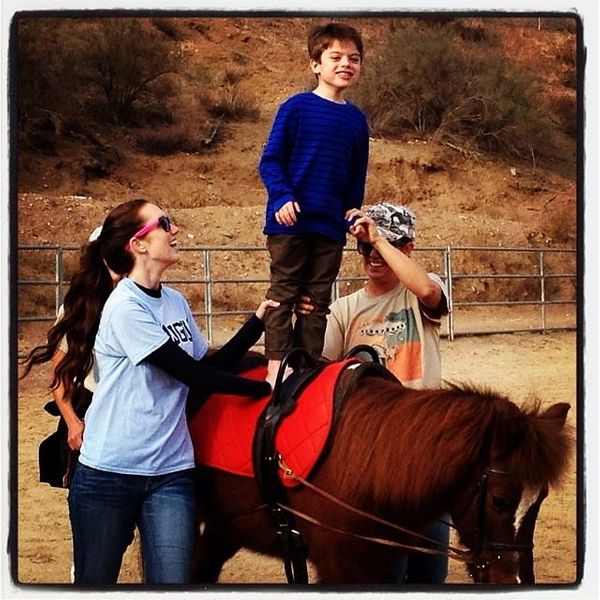 Please note we only accept volunteers 14 years of age or older.
We thank you in advance for your time, effort and dedication as a Carousel Ranch volunteer. We hope that you will enjoy your hours, knowing that you have truly made a difference!
"A hundred years from now, it will not matter what my bank account was, the sort of house I lived in or the kind of car I drove... But the world may be different because I was important in the life of a child."
To learn more about volunteering, click below to download Volunteer Guidelines & Volunteer Information Sheet.